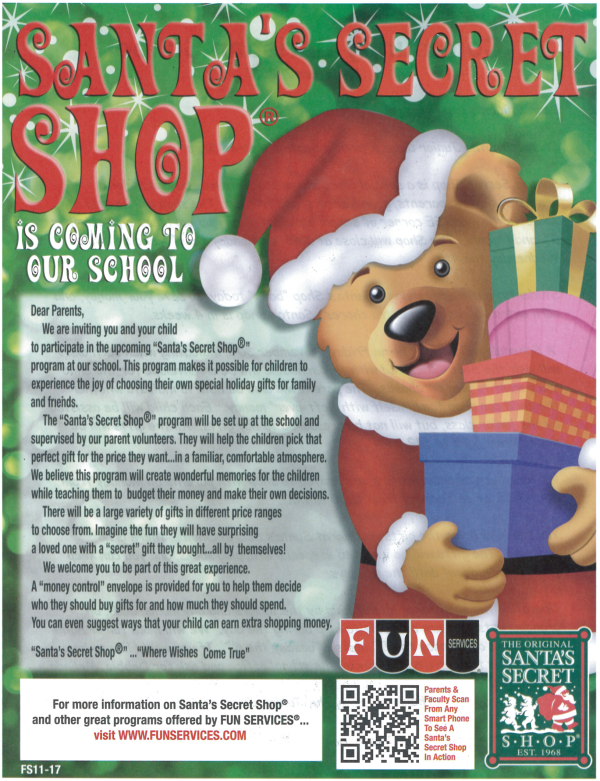 Dear Students and Parents,
Once again, the Junior Class presents...Santa's Secret Shop!
Santa's Secret Shop is a special place where students may buy gifts for brothers, sisters, parents, grandparents, and friends.  The shop will be held at school in the elementary gym (SE corner of the school building) during school hours on December 5th and 6th only.  The Shop will close at 3:30pm on Monday the 5th and at 11:00am on Tuesday the 6th.
Students:  You will receive a Santa's Shop "bank" to save your money by earning extra dollars for doing extra chores.  You can take home the gifts you buy at Santa's Secret Shop on the day you shop--there is no ordering.  The gifts will be wrapped in special wrapping sacks, and you can keep your gifts "hidden" until Christmas.
Parents:  A reminder and a schedule will be sent home Friday, December 2nd, indicating when each class will visit the Shop.  Included with this schedule will be an envelope for the child and parent to plan purchases.  The parent will also be able to indicate whether the child can shop for himself with "left-over" money.  Each child will be assisted by a Junior Class member, but will not be pressured to buy gifts.  All the gifts will be priced from $.25 to $15.
Visitors, such as preschoolers and parents, are invited to shop on Monday from 2:45-3:30, or on Tuesday from 9:00am to 11:00am.
Operating the Shop takes lots of help by the Juniors and any moms, dads, or grandparents who are available to help during the day.  We will need full or half-day helpers on Monday the 5th and on Tuesday the 6th.  If you would like to be a part of this fun activity, please contact the High School or Elementary office.
Thank you,
The Junior Class of CCS